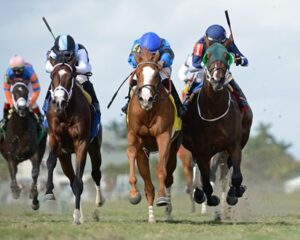 by Jessica Martini
Kinsman Stable's Crew Dragon (Exaggerator) overcame a case
of third-itis and plenty of traffic trouble to graduate by a gritty
neck when trying nine furlongs for the first time at Gulfstream
Park Sunday for trainer Bill Mott.
AOur team was very impressed with the gameness he showed
fighting through horses to get them at the wire,@ Kevin Adler,
Kinsman's Vice President and Director of Racing, said. ABill has
liked this horse since the summer and Crew Dragon showed his
versatility by getting the mile and an eighth.@
The Steinbrenner family's Kinsman Farm purchased Crew
Dragon for $110,000 at the 2019 Keeneland September sale.
A[Kinsman President] Jessica Steinbrenner takes our team to
Keeneland to try and buy a few athletes at a reasonable price to
send to Ocala to train on her farm,@ Adler said. ACrew Dragon
had a nice athletic walk, good conformation in front, good
shoulder, was decent size with an early birthday [Jan. 23], so
physically he checked our boxes. We also liked that he is by
Exaggerator from a female family with Distorted Humor in the
third dam, so the bloodlines were there as well.@
Crew Dragon is the first foal out of Go Go Dana, a half-sister to
graded stakes winner Liam's Dream (Liam's Map). His third dam
is Danzig's Beauty (Danzig), dam of Distorted Humor.
The original plan was to offer the colt at the Fasig-Tipton
Gulfstream 2-Year-Olds in Training Sale last spring. That was
until the coronavirus pandemic intervened.
A[Kinsman Farm's Ocala-based trainer] Emily Dawson has done
a great job getting the babies to the sales the past few years and
Crew Dragon was training nicely on the farm early,@ Adler said.
ASo we had the intention of taking him to the sale down at
Gulfstream. The pandemic forced Fasig-Tipton to cancel the
sale, leaving us to navigate around all the changes to the sale
dates. We were stuck in limbo not knowing if we would have
any sales, so we babied him along, making sure he was sound
and happy. Once we had firm dates, we were able to get him
ready to send him over to the OBS sale in June to see how he
would perform. He breezed well, galloped out strong and vetted
clean, so our team decided that we would take the chance and
run him. So a few days later, he was on a van to Bill Mott.@
Crew Dragon opened his racing career three months later,
closing from off the pace to be third without challenging the top
two while going one mile over the Belmont turf Sept. 18. Closer
to the pace in his next start, he was unable to keep pace with
runaway winner Original (Quality Road) when third again going
1 1/16 miles over the Aqueduct turf. He raced greenly to be
third again going that same distance at Gulfstream Park Jan. 2.
AHis first two races in New York were encouraging enough, but
his third kind of disappointed us, even though he ran against
what looks like two really nice horses,@ Adler said. ATurf racing is
tough, so you have to be patient with the young horses as they
are still figuring out how to race and compete.@
Crew Dragon finally put it all together Sunday. Behind a wall of
horses at the top of the lane, the handsome chestnut gamely
surged between foes when he finally found daylight and just got
up in the shadow of the wire for a determined victory.
AVery exciting to watch for sure,@ Adler said of Sunday's effort.
AYou would love to have a barn full of horses with the guts he
displayed.@
As for where Crew Dragon might start next, Adler said, AWe
have been doing this for quite a few years and one thing we
have learned is it is best we let the Hall of Famer Bill Mott make
those decisions.@
6th-Gulfstream, $40,000, Msw, 1-31, 3yo, 1 1/8mT, 1:47.68,
fm, neck.
CREW DRAGON (c, 3, Exaggerator–Go Go Dana, by Malibu
Moon) Click for the Equibase.com chart or VIDEO, sponsored
by Fasig-Tipton. Lifetime Record: 4-1-0-3, $44,760.
O-Kinsman Stable; B-Lee McMillin & Eric Buckley (KY); T-W Mott.